Why we created the Virtue Map
How one conversation over a cup of coffee led to thousands of people re-discovering their focus and mental resilience
"Procrastination is ruining my life, man." My friend Rick sighed, slouched over his cup of cappuccino. And I could relate. See, I always felt I could be and do so much more… If only I were more productive.
Rick went on and shared his struggles:
He was passed over for promotion because he often missed deadlines. He'd set up 2 alarm clocks because he WANTED to get up at 5:30… But still wasn't able to. He had big goals and dreams for his life… But they were crumbling before his eyes, because he simply "couldn't make himself do the work."
"What Should I Do?" I wanted to help us both, but how? Procrastination was something I struggled with all my life, too. Hundreds of self-help books… Countless Youtube videos with the hottest "life hacks"… 12+ self-care, goal tracking and time-management apps installed… And I was still watching cat videos every time I had an important project.
But… Rick was onto something.
"We need a coach AND a friend. Two in one, you know? Wish someone would design a tool like that!" His words echoed in my head all the way home. And when I woke up the next day… I knew I wanted to create the Virtue Map — to help anyone who ever dealt with procrastination, overwhelm and lack of direction.
Created By ICF-Certified productivity Coaches, Medical Doctors, and Leading Psychologists My heart was in the right place, but I was just a self-development nerd. That's why I gathered the most respected minds in the fields of psychology and human motivation to help me. And that's how Virtue Map works — using science and fact-based analysis to help YOU understand…
And overturn the behavioral patterns that don't serve you.
We use cutting-edge behavioral science tools to help you:
Virtue Map has all the tools you need to obliterate procrastination and the "I'll do it tomorrow" habit.
Our self-reflection exercises will help you uncover your procrastination triggers, excuses, false beliefs…And other key parts of your procrastination cycle.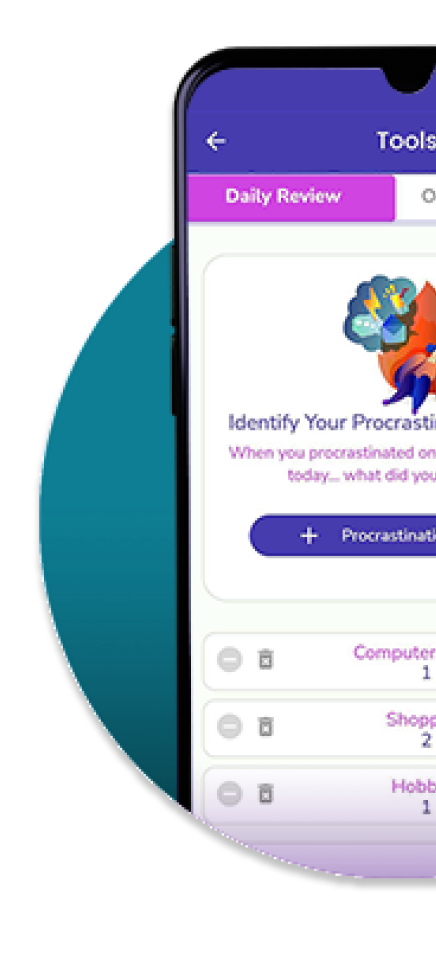 Discover how to form life-changing thinking habits, consistency and mental resilience.
EXPLODE YOUR PRODUCTIVITY
Boost your focus, clarity and efficiency quickly and easily.
We will match you with the right support group for you. Tap into the power of external accountability and group support to overcome procrastination.
Start your transformation today
Unlock your hidden potential for less than $1 / day
Step into the greatest expression of YOU with our cutting-edge neuroscience-based protocols.
Get into the groove with bite-sized daily tasks curated by the top behavioral experts.
Start reaping the benefits of CBT (Cognitive Behavioral Therapy) with our intuitive app.
Immerse yourself in the support of friends from all over the world by accessing our VIP Support and Accountability groups.
Choose premium access to unlock coaching and therapy sessions from our partner specialists.